Professional Lice Removal & Treatment in Flower Mound, TX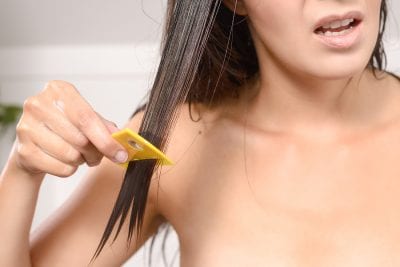 Do you need lice removal in Flower Mound TX? Nestled between Lewisville, Coppell, and Grapevine Lake, the city of Flower Mound is a growing community. The average population growth is skyrocketing, and the surrounding communities' growth does not hurt either. As a result of growth, however, the size of a head lice population can exponentially grow.

Safe Place for Flower Mound TX Kids To Get Lice Treatment
Children deserve a safe environment when battling against pesky head lice. While not severe, head lice can be a terrible nuisance for kids. Often, we must pull our children out of school until treatment can take place. Lice Lifters Treatment Centers would like to make the entire process easier.
At Dallas & Fort Worth TX lice treatment center, we provide a safe, non-toxic treatment solution that truly works wonders. After just one treatment in our office, your child will be lice-free!
Head Lice Infestation In Flower Mound, Texas
Your average head lice infestation spreads quickly. As parents, we often see notices from the school regarding a head lice infestation circulating around campus. It is best not to panic, though. These situations usually fix themselves, as the affected child is removed from class promptly and treatment can begin.
The staff at Lice Lifters Treatment Centers have the knowledge and experience you need to treat a head lice infestation. Through our thorough process, you and your child will be lice-free after just a single treatment!
Get Rid of Lice Fast
With Lice Lifters Treatment Centers, it takes just one in-office treatment, and you're done! There are no professional treatment solutions that work as quickly or as efficiently as our thorough process. We begin with a head-check to locate adult lice and nits. Then, moving on from there, we complete a professional comb-through. Using tried-and-tested combing techniques, our experts will remove as many lice as possible. Lastly, we apply our non-toxic treatment solution and send you home. It's that simple!
Getting Rid of Lice Permanently
Lice are bothersome. While typically not dangerous, head lice can cause intense itching and discomfort, especially in children. If you want to rid your scalp of head lice permanently, schedule a session Lice Lifters Treatment Centers. We have a reputation for removing head lice on the first go!
Schedule an appointment for prompt and effective head lice treatment in Flower Mound, TX!
Proximity to Everything in DFW
Flower Mound is close to everything and yet far enough away from the busy downtown of Dallas. It is still close enough to the airport and other major suburbs. Because of this, Flower Mound has a lot of school districts within its proximity: the Argyle area, the Lewisville School District, and Northwest. It's safe to say that enough children and teens are going in and out of the Flower Mound community, so a lice infestation is bound to occur.
Serving the Flower Mound Community
Flower Mound lice treatment does not have to be short-lived and redone again in just a few weeks. It is a common understanding that your family will get lice, get rid of it, and then get it again immediately. Instead, eradicate lice the right way. This involves an appointment at the Lice Lifters DFW Treatment Center in Frisco. Then there should be follow-up care at home with our all-natural treatment agent. If your whole family invests in the lice treatment and is dedicated to lice removal, you can have a happy, healthy, and lice-free home.
Contact Lice Lifters DFW
Invest in a Flower Mound lice treatment with Lice Lifters DFW. When you invest in this lice treatment, you invest in your family. Even though it's grown in size, Flower Mound does not have to stay lice-ridden.